...as captured by Jessica Hagy at
Indexed
: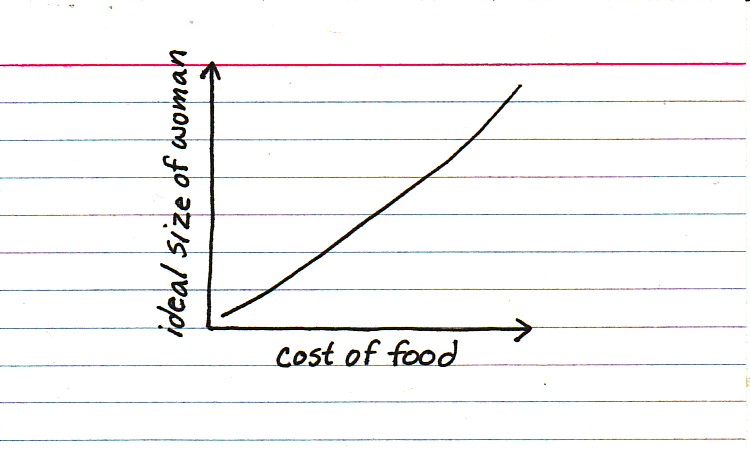 I'm far from the only person who remains slightly perplexed about the modern fixation on thin. Why now? Why is thin so venerated when fat/plump/round/large was for so many eons?
The answer, my friends, is simple: rarity.
I could get into evolutionary psychology (where fat women were fertile, therefore more desireable to men), but I think it's more in the aesthetics of beauty than anything.
Beauty, by its nature, has to be rare. Yes, beauty is everywhere and we're all beautiful in one way or another, but I'm talking basic, physical attractiveness. A dandelion may be beautiful, but it's common. We see it all the time. No big deal. But a wild orchid- we stop and look and admire and ohh and ahh. Or a Yugo vs. a Maserati. They're both cars, but the Maserati is unusual. Very few can have it, making it much more desireable.
Large women may have been considered generally more attractive simply because extras in food were rare, giving it the lure of the exotic. Now, food is more abundant, and thin becomes a rarity- which is just what the indexed card says. It's also a status symbol- and it's really hard to deny that.

And maybe (I'm going out on a limb here, and not even sure I believe it myself but...), just maybe, our fears over obesity and the size of our butts is fueling the whole "size zero" model thing. The more we see ourselves as fat, the more alluring the skin and bones of models become. It's the same reason. Corporations feed into this, trying to tell you and sell you on how to become something you're not.
By saying "fat is ugly," the almost automatic correlate is "skinny is beautiful." Which is bullshit, really, but there's a lot of people who buy into it.
I don't know that there's a solution to this problem. Because beauty (as judged by large-scale, cultural standards) is always going to be rare and hard to get. It just is. But maybe we just have to try a little harder, and widen our perceptions of it.